Today I wanted to share one of my vintage "crafted" treasures with you.
She is a Hanky Doll made from a variety of vintage items to create this heirloom treasure.
Hanky doll made from vintage wooden clothespin, luncheon napkin, lace and buttons.
I purchased this sweet bride doll back in 1993 from an antique store in Boone, NC
as my keepsake Christmas ornament to commemorate my wedding.
At the time I could not believe I paid $32.00 for her but in hindsight I'm ever so glad I did.
They had a large selection of hanky dolls that were more reasonably priced but
I put out the big bucks for the only bride in the lot.
My vintage "Bride" hanky clothespin doll ornament - details of face and trimmings
This doll used an antique wooden clothespin as the base and then she was
trimmed out in vintage items to create this one of a kind treasure.
At the time I purchased her, I could not get over how creative a project she was
and what a great way to repurpose these vintage odds and ends.
View from under the skirt
She is assembled by sanding and painting a vintage wooden clothespin.
Her torso is wrapped with a strip of vintage linen and a bit of tatted lace.
The folded napkin had a small amount cut from the center.
The raw edges were based down and gathered via running stitches.
The clothespin doll was inserted and the skirt threads secured to form the necessary gathers.
Sleeves were created from coordinating vintage linen and lace.
They were stuffed with batting and toothpicks were inserted for arms.
She was trimmed with buttons, pearl beads, a bit of tulle and some ribbon.
Close up of the details
Here is another look at the dolls details showing her "trimmings".
At the time of purchase there were about 20 other dolls in colorful garb using all manner of trims and accents to make them unique. Some of the dolls were dressed in patterned vintage handkerchiefs while others were in vintage handkerchiefs that had crocheted or lace edges.
There were so many pretty, wispy and frilly ones to choose from but there was only
this one large bride made with a heavier linen napkin and I'm so glad I choose her.
I thought to browse the web to see if I spotted any other dolls like this one using
the hankies so you could see other examples but I'm not having much luck,
which is sad since it would make a wonderful project.
Here are a few examples of what I have found on the Internet and
I hope they inspire you to try making a few hanky dolls of your own!
This is a sweet fairy doll created from a vintage patterned hanky and clothespin.
Here are a few hanky dolls with a different twist.
Rather than using clothespins as the doll, images of pretty ladies were used for
the base instead and these are quite charming in their own right.
If you do not have access to vintage hankys you could probably use pretty printed
paper napkins instead and then you would have a totally paper doll.
I look forward to giving it a try in the near future.
I have my fingers crossed that I can spritz a decorative paper napkin with water, iron out the pre-packaged creases, then fold and press in the new decorative creases to get a similar look.
This ensemble was created to dress up a Blythe doll but the same concept would work to decorate a clothespin doll. This set would take considerably more skill with needle and thread but what a clothespin doll it would make.
If these items have peeked you curiosity about creating doll fashions from vintage handkerchiefs you might want to check out this interesting Etsy find "
Hanky Couture by Marsha Greenburg
"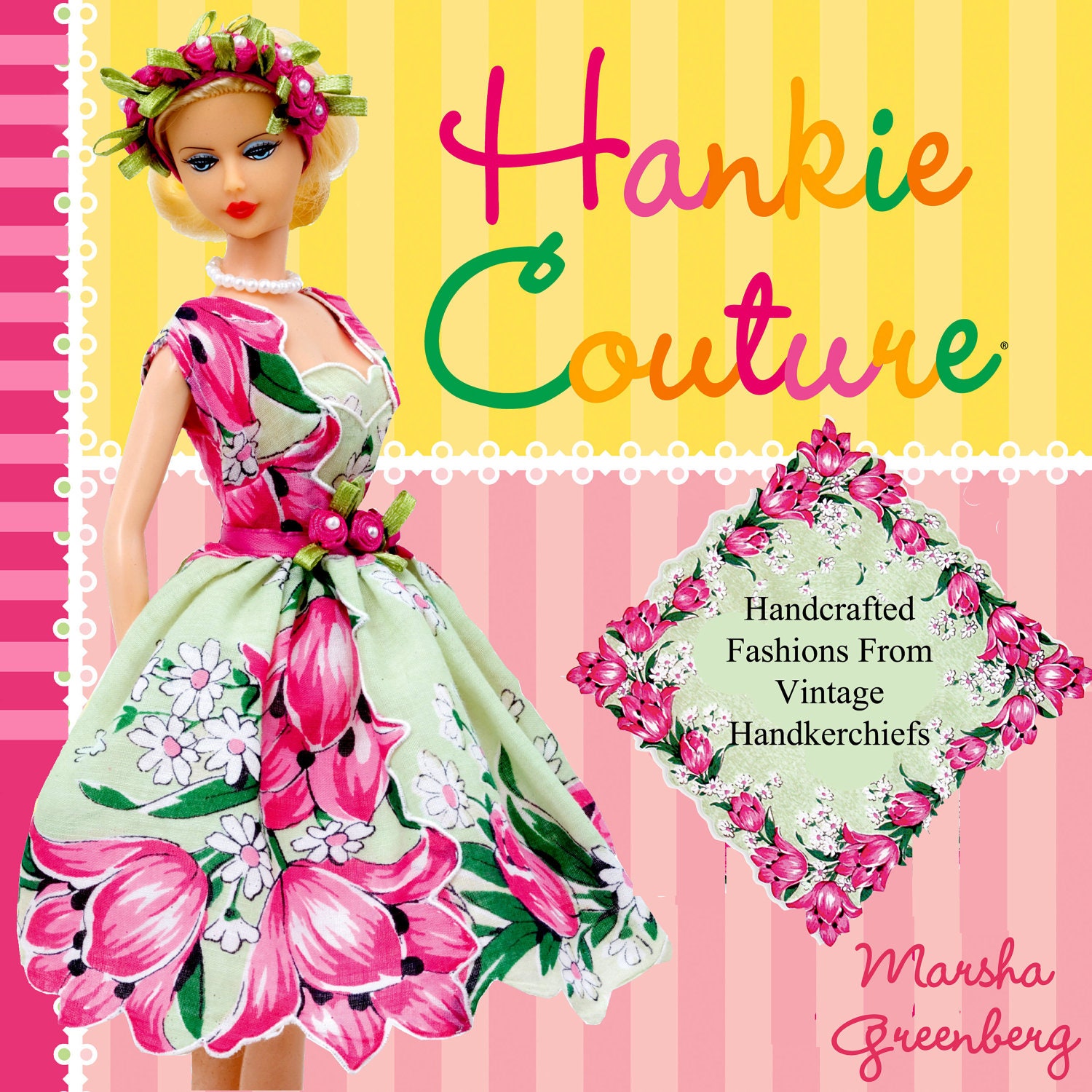 Learn to make hanky dresses with this Etsy find by Marsha Greenberg
This kit is based on making dresses for a Barbie type fashion dolls but would translate well to other small dolls and seems like a really fun kit. I just put this one on my Christmas List - grins.
I hope you've enjoyed this whimsical look into vintage clothespin dolls and handkerchiefs.
I know if I have to blow my nose I'd much rather reach for my Puffs Plus
and save those vintage hankies for fun projects like these.
*****
I probably won't get the chance to post again before Thanksgiving so I hope you
all have a safe and very enjoyable turkey day with family and friends.
Till Next Time...